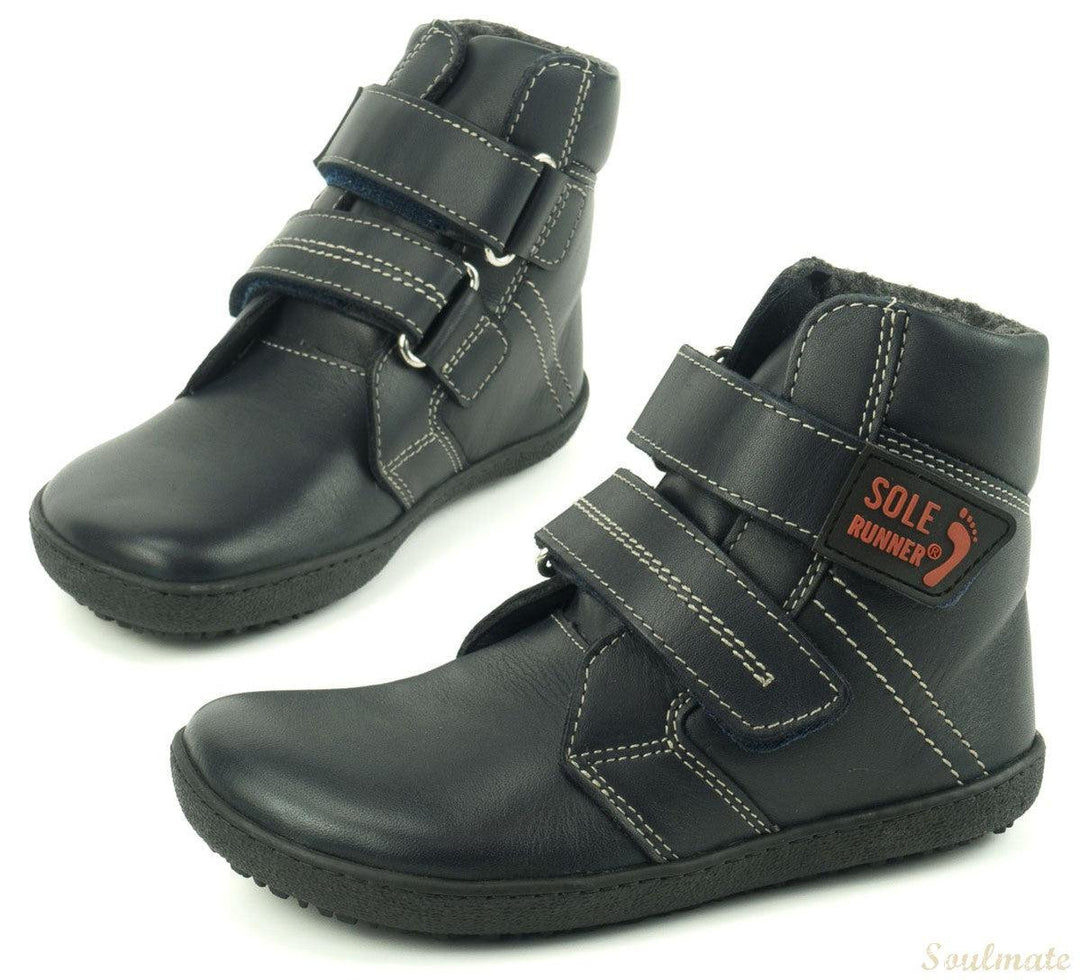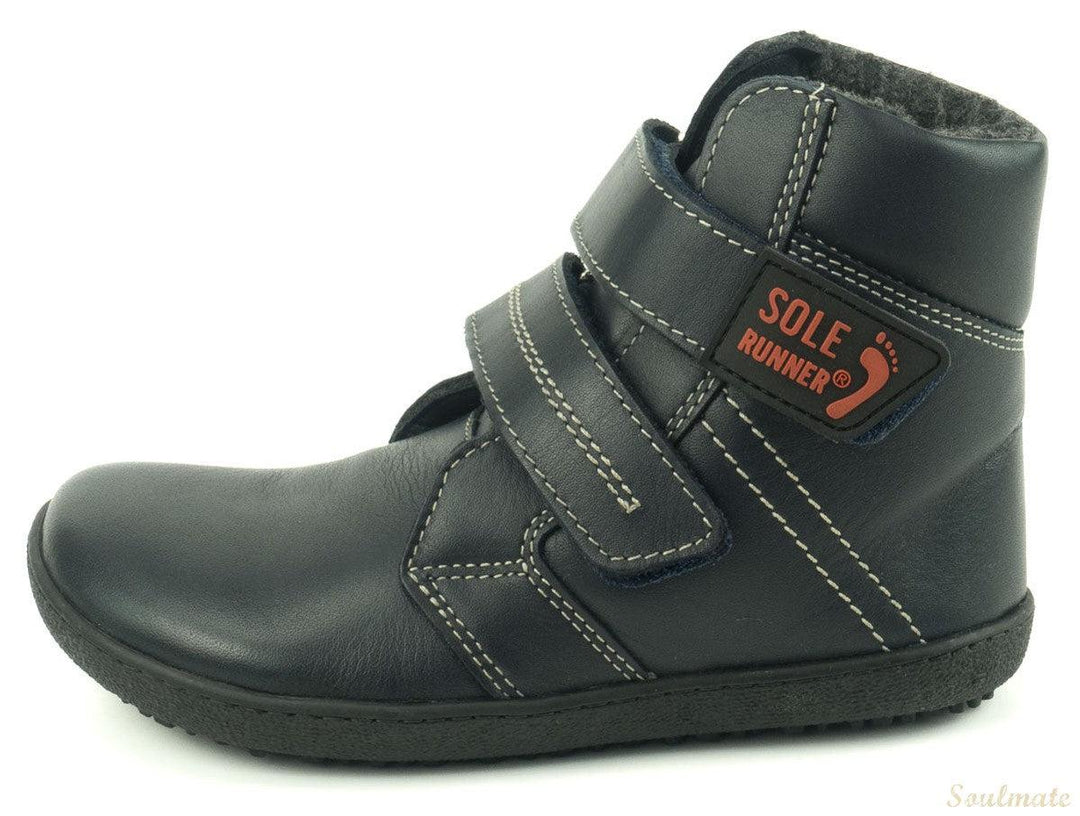 Sole Runner Titania Filz
/
Tax included.
Shipping
calculated at checkout.
Sole Runner Titania 2 ist der mollig warme Winterstiefel für Kinder aus Veloursleder. Einfaches Anziehen durch den Klettverschluss, warmes Innenfutter aus Baumwolle. Weite: Weit, vorne breit geschnitten.
Sole Runner Titania 2 Brown Kids

Titania 2 ist der Winterstiefel für mollig warme Kinderfüße. Der Klettverschluss ermöglicht ein einfaches Anziehen. Das Innenfutter aus Baumwolle hält auch bei tiefen Temperaturen schön warm.
Unterschied zum Vorgängermodell ist das Glattleder, dass sich nun zur Pflege auch cremen lässt.
Kinder haben einen natürlichen Hang zum Toben oder herum laufen. 
Dabei sollte der Fuß nicht eingeengt sein. Viele Kleinkinderfüße sind zudem recht kräftig und benötigen schon deshalb mehr Platz im Schuh
Da Kinder mit dem Gehen auf eine natürliche Art beginnen, und nicht wie Erwachsene mit der Ferse auftreten, sollte der natürliche Gang auch beim Gehen mit Schuhen nicht eingeengt werden.
Erst Schuhe mit dicken oder zu harten Laufsohlen fördern den Fersengang.
Um das natürliche Gehen auch im Sommer beizubehalten, hat Sole Runner® die Kinderkollektion erweitert. 
Diesem Artikel liegt kostenlos eine Einlegesohle bei.
Bitte berücksichtigen Sie eine Wachstumsreserve von ca. 12mm zur gemessenen Fußlänge.
---
Obermaterial: Leder hydrophobiert (Wasser abweisend)
Innenmaterial: Baumwolle
Verschluss: Klett
Form: Weit. vorn breit geschnitten. Die Zehen haben optimale Bewegungsfreiheit
Größen: 25 - 35
Gewicht: 200 gr./Paar Gr. 29
Schafthöhe: ca 12 cm Gr. 30
Laufsohle: ca. 6 mm Gummi, Non Marking (nicht abfärbend).
Erlaubt einen möglichst direkten Kontakt zum Boden. Fast wie Gehen auf der eigenen Fußsohle
Zahlung und VersandEs gelten folgende Bedingungen:

Die Lieferung erfolgt im Inland (Deutschland) und in die nachstehenden Länder: Österreich.

Versandkosten(inklusive gesetzliche Mehrwertsteuer)

Lieferungen im Inland (Deutschland): Wir berechnen keine Versandkosten ab 100€ Bestellwert, darunter je nach Größe 2,90€ bzw. 5€.

Lieferungen nach Österreich:Bei einem Bestellwert unter 500€ berechnen wir 10€.

Ab einem Bestellwert von 500€ liefern wir nach Österreich versandkostenfrei.

LieferfristenSoweit im jeweiligen Angebot keine andere Frist angegeben ist, erfolgt die Lieferung der Ware im Inland (Deutschland) innerhalb von 1 – 4 Werktagen, bei Auslandslieferungen innerhalb von 5 – 7 Werktagen nach Vertragsschluss (bei vereinbarter Vorauszahlung nach dem Zeitpunkt Ihrer Zahlungsanweisung).
Beachte, dass an Sonn- und Feiertagen keine Zustellung erfolgt.
Hast Du Artikel mit unterschiedlichen Lieferzeiten bestellt, versenden wir die Ware in einer gemeinsamen Sendung, sofern wir keine abweichenden Vereinbarungen mit Dir getroffen haben. Die Lieferzeit bestimmt sich in diesem Fall nach dem Artikel mit der längsten Lieferzeit den Sie bestellt haben.
Bei Selbstabholung informieren wir Dich per E-Mail über die Bereitstellung der Ware und die Abholmöglichkeiten. In diesem Fall werden keine Versandkosten berechnet.

Domestic deliveries (Germany):


We ship free of charge for orders over €99.
Orders under €99 cost €4.99.
The actual costs will then be displayed before paying.
The actual costs will then be displayed before paying.
payment and shipping

The following conditions apply:

Delivery takes place domestically (Germany) and to the following countries : Austria - by prior arrangement

Shipping (including statutory VAT)


Deliveries abroad :

Can be requested.


Delivery times

Unless a different deadline is specified in the respective offer, the goods will be delivered domestically (Germany) within 2 - 5 working days, and for deliveries abroad by arrangement.
Please note that there is no delivery and no shipping on Sundays and public holidays.
If you have ordered items with different delivery times, we will send the goods in one shipment, unless we have made different agreements with you. In this case, the delivery time is determined by the item with the longest delivery time that you ordered.

If you collect the goods yourself, we will inform you by email about the availability of the goods and the collection options. In this case, no shipping costs will be charged.

Accepted payment options

- Cash payment upon collection
- Advance payment by bank transfer
- Payment by EC card

Over Paypal:
- Payment via PayPal
- Payment with credit card
- Payment via "Pay later"

About Molly:
- Payment by immediate/immediate transfer
- Payment via giropay
- Payment via Apple Pay
- Payment via Google Pay

Our bank connection:

DE45650501100101110325


If you have any questions, you can find our contact details in the legal notice.